When you have a glut of lovely homegrown apples what better way to preserve some of them than turning them into beautiful homemade apple chutney to last you through to next autumn. There are lots of commercially available versions easily purchased from the supermarket, but I can assure you that they will come no where close to this homemade version. More importantly, by making it yourself from whole ingredients, you will know exactly what you are eating-no colours, no artificial preservatives, just easily accessible wholesome ingredients. I love preserving fruits and vegetables, and this chutney is so easy to make I am sure that if you don't do it already, this one is sure to inspire you to go on and make you all sorts of preserves, jams and chutneys.
If you have a preserving pan that's perfect, but don't be put off making this lovely chutney if you don't, as a heavy bottomed large saucepan or casserole will be just fine.
And before we get down to the recipe, a quick word about jars-you don't need to buy new ones (unless you want to of course). You can reuse jars and their lids as long as you thoroughly clean and sterilize them before filling with your chutney. Reusing jars is a great environmentally positive thing to do-and if you don't have enough of your own ask your friends and family to save theirs for you. You will have plenty in no time at all! Oh, and if you need advice on easy and reliable sterilizing methods for glass jars have a look at our blog STERILIZING JARS BLOG -the last thing you want after taking time and effort to make your chutney is for it to spoil due to inadequate sterilization of your containers.
Finally, although I have found that this chutney is tasty eaten straight away (I think this is because it contains cider vinegar rather than the stronger tasting malt vinegar), generally speaking chutneys are best left to mature and to allow the vinegar taste to mellow for a few days or weeks if you can resist.
Recipe Overview
This chutney is a classic, easy to eat and goes well with cheese and cold meats.
Preparation Time: about 20-30 mins
Cooking Time: about 40 mins
Makes: about 8 x 12floz jars (but remember that this recipe is easily doubled or halved depending on how many apples you have and how much chutney you want to make)
Storage: Keep your finished unopened preserves in a cool, dark, dry place. Sunlight can have an effect on the color and humid places may cause fermentation. Chutneys have at least a year's shelf life. Once opened store in the fridge and use within four weeks.
Method
Combine all the ingredients in a large, heavy saucepan. Bring the mixture to a boil over a medium heat, then simmer uncovered, stirring frequently, for 30-40 mins, or until thick and pulpy.
How do you know when your chutney has been cooked for long enough?
Well luckily its very simple. When your chutney appears thick and pulpy enough, make a channel with a wooden spoon across its surface. If it leaves a channel imprinted for a few seconds without being filled by spare vinegar, it is ready.
2. Remove from the heat, and transfer to sterilized, clean, dry jars and seal. It will really help here to have a jam making funnel with a wide mouth to help ensure that you do not spill any of your lovely chutney on the worktop or worse still down the outside of your clean jars!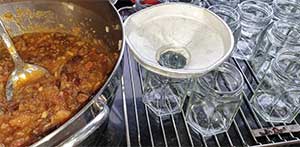 3, Make sure that you label your jars before storing – don't do what I did and make lots of jars of similar looking jam and then find it really difficult to know what's in the jar without opening it!)