Light fluffy vegan friendly apple cake with a crunchy cinnamon topping, which is full of apple and especially wonderful served warm, with Vegan friendly cream or ice cream. Perfect for desserts (but we also loved it cold with a cup of tea !)
Ingredients
For the Apple
Cake
Dry ingredients
320g plain flour
300g sugar ( I used light brown
sugar which I think compliments apples but use whatever you have)
1 ½ tsp baking powder
1 tsp ground cinnamon
¼ tsp freshly grated nutmeg
Pinch of salt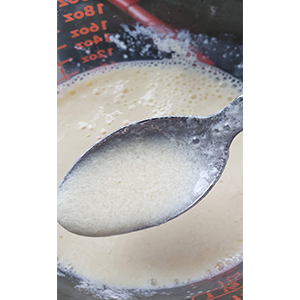 Wet ingredients
80 ml extra virgin olive oil
240 ml soya milk
1 – 2 tbsp freshly squeezed lemon
1 tbsp Apple Cider Vinegar
1 tsp vanilla extract
200g peeled and chopped apple
For the topping
100g granulated sugar
1tsp ground cinnamon
Recipe overview
Perfect for desserts
served warm or just as a piece of cake at tea time
Preparation time: 15-20 minutes
Cooking time: 45 minutes
Serves: about 12 – 15 pieces (depending how generous you are )
A couple of points before we start
Apples – use whatever you have – we
used apples that we given to us but not used in the cider production. The specific
variety was not known, although I think they would have been classed as a
cooking apple which probably works a little better in a cake like this as they
break doen more easily, but it really doesn't matter-all apples are good!
Vegan buttermilk – buttermilk is what helps to create the moistness in this cake, but there's no need to search the shops for a vegan alternative…simply make it by using soya milk and curdling it with lemon juice. If you don't like soya milk try almond milk.
Method
Preheat your oven to 160C.
Grease and line a baking tin, I used a deep straight sided rectangular roasting tin which was about 12" x 8" . This produces quite a shallow cake which I think is perfect for pudding with cream or similar. However you could use a smaller tin to produce a deeper cake if you prefer, or even a large round cake tin (about 9-10 inch diameter)
Sift the flour into a mixing bowl and add and mix all of the other dry ingredients
Prepare your buttermilk by adding 1 – 2 tbsp of fresh lemon juice to 240ml of milk. Give a gentle stir and then leave it for a minute or two to curdle
Add the vegan buttermilk and all of the other wet ingredients (except the apple pieces) and mix thoroughly. The result is a thick batter.
Fold in your apple pieces.
Transfer to your prepared dish and smooth
Prepare your topping by mixing the sugar and cinnamon together, and then sprinkle it evenly over your cake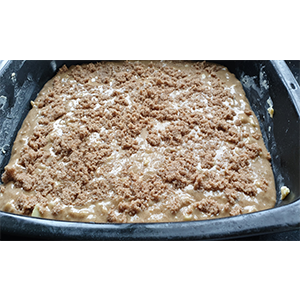 Bake in the oven for about 45 minutes. If your cake is deeper it will probably need longer. Insert a skewer into the middle of the cake to check that it is cooked.
Leave in the tin until cooled, then turn out. I warmed the turned out cake gently before serving as I felt it was likely to break if I turned it out hot.
Serve
warm with cream or ice-cream (vegan versions if you are vegan)